Nobody Cares About Your University... Yet
Second Edition, Featuring New Winning Strategies for Marketers
Upgrade your university's marketing with the OpenEDU Model, now updated with practical solutions for the latest challenges.
"Amid the current state of upheaval, are today's colleges destined to become yet another endangered bastion of brick-and-mortar-based American ingenuity? Maybe. But... we firmly believe that there are opportunities for our institutions to evolve and thrive."
Why We Wrote a Second Edition… And Why You Need It
The response we received when we first shared our openEDU Model in 2016 was phenomenal. But 2020 is looking a lot different than 2016. Not only are new technologies like artificial intelligence and Big Data transforming the way marketing is done, but we're now looking at a whole new generation of prospective students. And Gen Z is shaping up to be quite a different cohort than the Millennials.
But Gen Z is just part of the issue. The entire face of higher education is changing as institutions seek new markets to replace the shrinking pool of international students and the smaller pool of traditional undergraduates. "Non-traditional" is becoming the "new-traditional." Competition for online students is becoming even fiercer as some of the for-profit institutions that dominated just a few years ago are losing ground to the wave of non-profit and state institutions coming online, often driven behind the scenes by for-profit OPMs (Online Program Managers) who can take even the stodgiest institution online in just a few months. Add to all of this the growing concerns about ballooning student debt, political polarization, and an expanding industry of alternatives to the traditional four-year degree (and new formats for graduate degrees that promise to provide credentials faster, easier, and cheaper than ever before) and it's clear that, as higher ed marketers, our jobs have never been tougher.
The second edition of Nobody Cares About Your University… Yet addresses these new concerns while focusing more acutely on the practical, actionable steps you and your institution can take to connect with audiences and thrive in the current higher education climate. Even if you read the first edition, we hope you'll read this one as well. Times have never been tougher for higher ed marketers. But the OpenEDU model has never been stronger.
Tools to help you get the most out the book
But wait! There's more! Here are a couple of tools we developed while writing the second edition of Nobody Cares About Your University...Yet that wouldn't fit in the book but can definitely help you take your college or university marketing to the next level. Click on each title to download and use.
Internal Assessment Worksheet
This worksheet provides a comprehensive series of questions you can use to evaluate your current marketing programs and communication situation. We'll warn you: it might be a little uncomfortable to fill out — and could spark a few spirited debates — but it'll definitely be worth it!
Download PDF
Prospect Journey
A handy guide to the journey that your prospective students make on their way to becoming enrolled at your college or university. It provides an overview of the activities they're engaged in at each stage, the unique concerns at each stage of their journey, and the barriers that may get in their way of progressing to the next stage. You'll also find messaging points tailored to the needs, concerns, and barriers at each stage and the best media (or mediums) to reach prospects and their influencers. Download and use it to plan your next recruitment marketing campaign.
Download PDF
What People Are Saying
Nobody Cares… is a practically applicable and highly readable crash course in modern higher ed marketing that elegantly synthesizes historical perspectives, cutting-edge research, and invaluable experience-based insight. I'm excited to apply the OpenEDU model in my own work.
Using the openEDU model, Nobody Cares... provides both a useful framework for understanding the essential elements of higher-education branding, as well as practical marketing guidance that has the potential to make impact quickly. I appreciate its commentary on the historical context that has shaped present-day higher-education marketing. As a digital strategy professional, I plan to use the openEDU model to help guide future projects.
The OpenEDU model outlined in this book helped me clearly communicate and garner the necessary buy-in from my non-marketing colleagues at the college.
This is a must read for higher education marketers who are about to build a website. The research-based and pressure-tested concepts will guide you to make better decisions.
About the Authors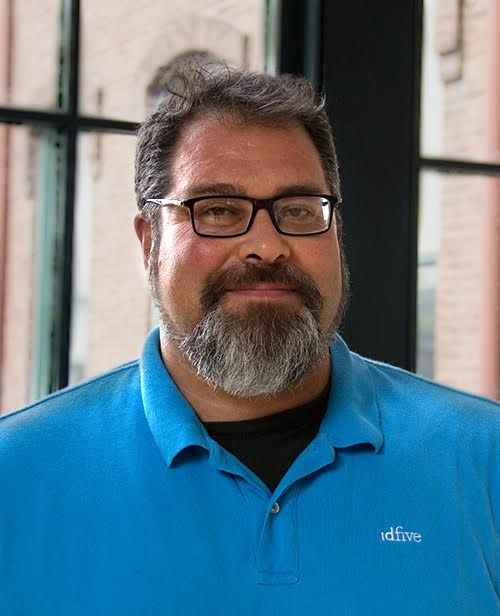 Sean Carton
Sean was the founder of one of Baltimore's first web development firms in 1995, the founding Dean of the School of Design and Media at Philadelphia University, and the co-author of one of the first books about the web (the Mosaic Quick Tour series) in 1993.
Sean has published eight books about the internet, technology, business, and video games, and writes regular columns for ClickZ.com (the leading online advertising industry website) and Publish.com, as well as contributing to magazines such as Wired, Revolution, Stim, and POV. He has undergraduate degrees in English and psychology from UMBC, an MA in English Literature from the University of Maryland College Park, and a Doctorate in Communications Design from the University of Baltimore.
Andres Zapata
Andres is a communicator. He ensures progress through connection, understanding, simplicity, and clarity. As an adjunct professor at MICA's acclaimed MFA in Graphic Design, he works with the nation's most talented interactive designers. When he is not teaching, he runs idfive. As an accomplished usability and experience designer, Andres is always looking for ways to simplify, enhance, and improve interfaces.
Andres's client work has been recognized with numerous awards, including Webbies, Addies, CASEs, and IMAs. Other honors include the AMA 4 under 40, Maryland's Best, smartCeO, and the New York Art Directors Club. He has a BA in Sociology and Communication from Goucher College, an MA in Design from the University of Baltimore, an MBA from The Johns Hopkins University and is pursuing a Doctorate in Information and Interaction Design from the University of Baltimore.
Subscribe to Our Newsletter
Keep up with our latest news, updates, analyses, and research.