Nobody Cares About Your University... Yet
The Marketer's Winning Playbook
Re-energize your university's marketing with the OpenEDU Marketing Model.
"Goals should be independent of time and budget, right? After all, a goal should encompass what we need to achieve, not what's possible. Wrong."
What People Say
Many marketers focus exclusively on increasing website traffic and leads, and neglect to discuss what happens next. The authors didn't stop there but honed in on the importance of nurturing prospective students throughout the entire enrollment lifecycle.
Break free from 'conventional wisdom.' It's easy to get into a rut, going after the same prospective student pool every year—especially when it produces results.
About The Book...
We started by asking Why write a book in the first place? The answer turned out to be another question: Why hasn't anyone written a book like this before?
Higher education—the philosophy, the business model, and the discipline—is in trouble. Big trouble. Disruptive models in online skills training, corporate education and open-source learning are siphoning off prospective students who traditionally attend colleges and universities. The students who do make it to campus acquire skills that may not be relevant in five years. Faculty and staff scramble to prepare their students for jobs that don't exist yet. Significant student loans, degree farms, and commoditization are contributing to growing concerns about the value of a degree. The outlook is bleak.
Higher education is in a precarious state, and competition is fierce—vicious even—as institutions step on each other to woo a fast-shrinking pool of potential students. Don't think for a second that the new library, recreation center, or residence hall under construction is intended for current students. This competition is, in short, why nobody has written this book, and it's also contributing to the gradual mutation of an industry to a point where some question its viability.
Apocalyptic? Perhaps. But these are issues today's learners wrestle with. We know. We've been asking. And we've been executing successful marketing strategies in this tormented higher education environment, overcoming some of these very barriers to connect with audiences and reinvigorate institutions. Our agency uses a step-by-step playbook to successfully develop and implement marketing, advertising, web, and content strategy initiatives for schools across the United States. This playbook that has served us well. Now we're giving it to you.
We believe that the industry we love will endure, evolve and flourish when higher-ed marketers (and, really, any marketer in a high-stakes environment) are prepared to better connect with existing audiences and inspire new audiences. Consider this book equal parts public service and business preservation. That's why we wrote it.
About the Authors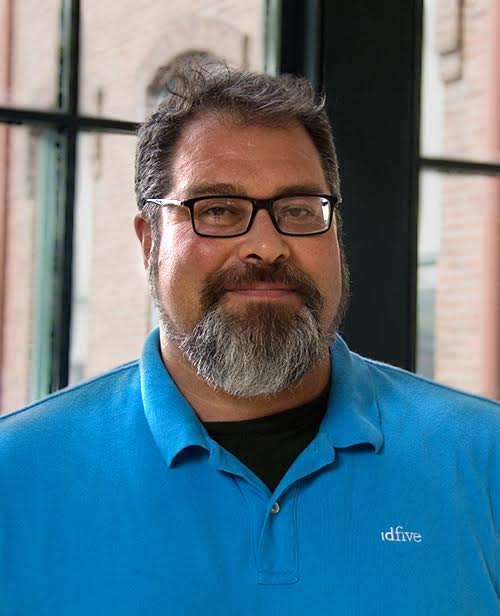 Dr. Sean Carton
Sean was the founder of one of Baltimore's first Web development firms in 1995, the founding Dean of the School of Design and Media at Philadelphia University, and the co-author of one of the first books about the Web (the Mosaic Quick Tour series) in 1993.
Sean has published eight books about the Internet, technology, business, and video games, and writes regular columns for ClickZ.com (the leading online advertising industry website) and Publish.com, as well as contributing to magazines such as Wired, Revolution, Stim, and POV. He has undergraduate degrees in english and Psychology from UMBC, an MA in english Literature from the University of Maryland College Park, and a Doctorate in Communications Design from the University of Baltimore.
Andres Zapata
Andres is a communicator. He ensures progress through connection, understanding, simplicity and clarity. As an adjunct professor at MICA's acclaimed MFA in Graphic Design, he works with the nation's most talented interactive designers. When he is not teaching, he runs idfive. As an accomplished usability and experience designer, Andres is always looking for ways to simplify, enhance and improve interfaces.
Andres' client work has been recognized with numerous awards, including numerous Webbies, Addies, CASEs, and IMAs. Other honors include AMA 4 under 40, Maryland's Best, smartCeO, and the New York Art Director's Club. He has a B.A. in sociology and communication from Goucher College, an M.A. in design from the University of Baltimore, and an M.B.A. from the Johns Hopkins University.
Join Our Newsletter
Keep up with our latest news, updates, and additional research.
Enter your e-mail and subscribe to our newsletter.